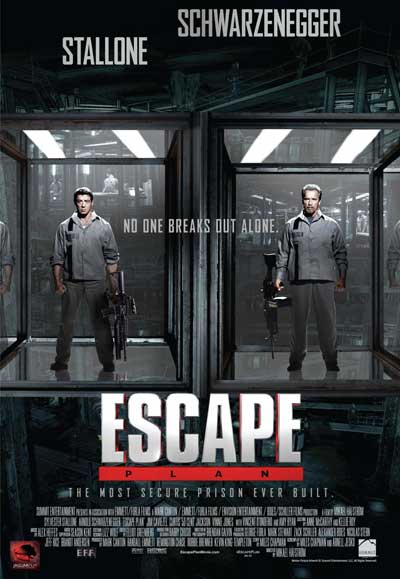 Escape Plan. Good proposal prison action movie with two heavyweights face to face.
The meeting of Sylvester Stallone and Arnold Schwarzenegger as full co-stars in this movie is for fans of action films of the 80s and 90s had the same meaning for fans of classic Western 's meeting John Wayne and Robert Mitchum in El Dorado (Howard Hawks, 1966 ). See face to face these two actors is undoubtedly the main attraction of this film, because so far encounters Stallone and Schwarzenegger in the saga of The Expendables contribution have placed second in a key cameo in the second installment elongated. But the best of Escape Plan is that it offers much more than the simple story of the meeting before the cameras. Not limited to put together in the same story to Stallone and Schwarzenegger, but also has a good script that turns into a good proposal -themed action film prison . In fact, the film is more entertaining and solid Stallone has starred in recent times. Pure escapist cinema. His argument echoes Kafka is a good starting point for what becomes an interesting hybrid of genres. It is primarily a prison adventure all the way, but in due course incorporates elements of science fiction movies that adorn its packaging externally: the futuristic maximum security prison in which the protagonists are locked brings a new landscape for leak traditional prison adventure. Also work well subplots of intrigue, resting on actors strong enough to encounter out Stallone and Schwarzenegger reinforced. Casting is one of the strengths of the film. Front two action movie icons of the 80s and 90s, the film features a villain exemplary record working in a completely different style and brings a sinister and disturbing the web of intrigue: Jim Caviezel , in turn backed it refers to the physical action by another iconic figure, Vinnie Jones. Jones speaks the same language as Stallone and Schwarzenegger, predominantly physical and action. But Caviezel plays in another league. Bright star of the series Person of Interest, is one of the most gifted actors of his generation and brings not only elegance and exemplary villain style, but even remembers the excellent work done by Patrick McGoohan as an antagonist of Clint Eastwood in a classic, Escape from Alcatraz ( Don Siegel , 1979 ). Caviezel added to the other four featured in subframes side of the film, Sam Neill , Amy Ryan and Vincent D' Onofrio and understand why I think this is one of the strongest films starring Stallone and Schwarzenegger at this stage of return to film stardom action taking place both actors in the past two years. Better and more fun than the other prison movie Stallone , Lock Up ( John Flynn , 1989 ) , and its association with Kurt Russell in Tango and Cash ( Andrey Konchalovsky , Albert Magnoli , 1989 ), which also had its episode in prison and run , it's kind of clever fusion of both much better constructed tale. At the right time, with the rhythm and proper progression of characters, situations and events, is adding new elements to the puzzle, so as to keep the viewer's interest. The discovery of the place in which is prison is one example. Also presenting conspiracy Caviezel 's character .
The film contains several moments that will delight fans of both actors, but in the face to face, Schwarzenegger takes an advantage over Stallone. Both have their moments of brilliance, but it is clear that Schwarzenegger work best, because her character is more caricature, plays with his role as action film icon without taking the issue as seriously as Stallone. Schwarzenegger is more relaxed and flexible against Stallone, stiffer . This rigidity has always been present in Stallone's career, determined to take too seriously his role as iconic action hero and justifications for their characters. The weakest point of the script for Escape Plan is precisely this attempt to justify and provide a motivation for his character. A past that the character does not need to run in the same way that needs no justification. Schwarzenegger has always been less tied down, has been more flexible than Stallone. Always been able to laugh at their own image as action film icon. Stallone has always taken too seriously that label. Whoever doubts can compare The Twins , Kindergarten Cop , Last Action Hero , True Lies , Junior and Jingle All the Way against Rhinestone, Oscar or Stop or My Mom Will Shoot !
This greater flexibility Schwarzenegger gives advantage in this battle of the giants that results in one of the most entertaining films I've seen this year.
I hope it is a success and that it allows more meetings between Schwarzenegger and Stallone. In Escape Plan have been shown to be somewhat like Fred Astaire and Gene Kelly of the action film.
Miguel Juan Payán
COMENTA CON TU CUENTA DE FACEBOOK